If there's one positive takeaway from the past two years of
the coronavirus pandemic, it's recognizing the importance of physical activity
and exercise as an antidote for managing pandemic stress.
As people emerge from more than two years of self-quarantining,
lockdowns and pandemic isolation, they're breaking away from periods of
inactivity, anxiety and a sedentary lifestyle that puts them at risk for
obesity, cardiovascular disease, depression and a number of other chronic health
conditions.
A 2020 study on physical activity and sedentary behavior
during the pandemic reported that regular physical activity improves a person's
mood and the body's immune function while reducing stress – something many of
us need right now.
The pandemic pushed a transformation in the health club
industry that, like other businesses, encouraged innovation, change, flexibility
and a need for more options to meet people's changed habits and behaviors. 
At MUSC, the crew that manages fitness and wellness did not
miss a beat. Everyone stayed committed as they navigated through pandemic
restrictions, conflicting demands and changing campuswide COVID guidelines and
directives to continue the center's mission to foster healthy lifestyles and
promote wellness across campus.
Despite MUSC's Wellness Center facility being temporarily
closed during the early months of the pandemic, the center's team responded and
found creative ways, using technology and resources, to connect people and
engage them in virtual workouts and yoga sessions that were made available to
members, employees, students and especially MUSC Health care team members.
In December, Dustin Jackson was hired to replace Janis
Newton, long-serving director of the Wellness Center, who retired. An Atlanta
native, Jackson came to MUSC with years of experience managing the University
of Georgia's Student Recreation Center, the second biggest college recreation
facility in the U.S. Most recently, he worked with veterans and staff as the
Southeast manager of the Physical Health and Wellness program at Wounded
Warrior Project in Atlanta, Georgia.
Since Jackson's arrival at MUSC, he's focused on managing the
center's operations with his team and responding to member's needs, popular
fitness trends, industry demands and the changes that go along with all of it.
The team, he explained, relies on information gleaned from
member surveys, best practices and collected data to determine where they are
and where they want to be. He's open to expanding programs and services to help
current and future members to achieve their social, emotional, spiritual and
physical health goals. 
Gigi Smith, Ph.D., R.N., associate provost, believes that
MUSC has a dual responsibility in the community – providing the best health
care and influencing wellness among South Carolinians, especially those living
with illnesses and chronic health conditions. "If we don't do both, we won't
have the type of healthy community that all of us are striving for," Smith
said.
"MUSC's Wellness Center is truly unique," said Jackson, comparing it to recreational
sports centers on other college and university campuses. "There's a lot of
things that MUSC offers that a person won't see, such as specialized clinical
wellness programs for people living with Parkinson's disease, breast cancer
survivor programs and clinical rehab programs, that an academic health science center
like ours is able to offer. It's what attracted me to come here."
Another draw for Jackson is the community collaboration and
partnerships. Many university and college fitness facilities and gyms cater specifically
to the institution – its students, faculty and staff. The Wellness Center has
been actively engaged with training and working with other health clubs and city,
county and community programs, such as the Healthy Charleston Business
Challenge, Credit One Charleston Open Tennis Tournament (formerly the Family
Circle Cup), Cooper River Bridge Run Expo and many other projects.
With a location on the west side of the Charleston
peninsula, it's typically a convenient walk, jog or bike ride away for downtown
residents as well as students and professionals.
"MUSC's Wellness Center focuses on the Charleston community,
which translates to variability in what we can offer and meet the needs of
people at different times of their lives. To me that's exciting. There's still
opportunities that we can tap and explore – the sky's the limit in what we have
to offer," said Jackson.
The center features a variety of large-group classes from yoga,
cycling, strength conditioning and cardio workouts to Boot Camp, H.I.T.S.
program, pilates, and Health Works cardio. The center also offers small-group
programs like Pilates, PowerUp Cardio Quest and Next Wave, a science-based fitness
training program, in addition to personalized training and nutrition counseling.
The multi-level 80,000 square-foot facility offers a cardio
room, newly renovated free weight area; junior Olympic-sized indoor pool; group
exercise studios; cycling-spin studio; boxing studio; multipurpose gym; paddle
and racquet courts for racquetball, squash, tennis and pickleball; indoor and
rooftop running tracks; and locker room areas.
"We want to help people to realize that their health is
important and a priority in their lives, and that it's good to actively
exercise. A healthy lifestyle leads to better outcomes," he said.
Coming out of the pandemic, the center's focus is on
rebuilding membership. With the uncertainty of the pandemic and members finding
new fitness routines, the center experienced a drop in memberships. Today, as
health clubs and gyms have fully reopened and people are returning to their routines,
the center is offering a variety of membership options that can be purchased online
or in person. Digital registration is available to community members and
employees to purchase monthly and annual memberships. Other options include a
three-month membership and an Xpress membership (designated times for midday
and evening visits), plus a one-time enrollment fee.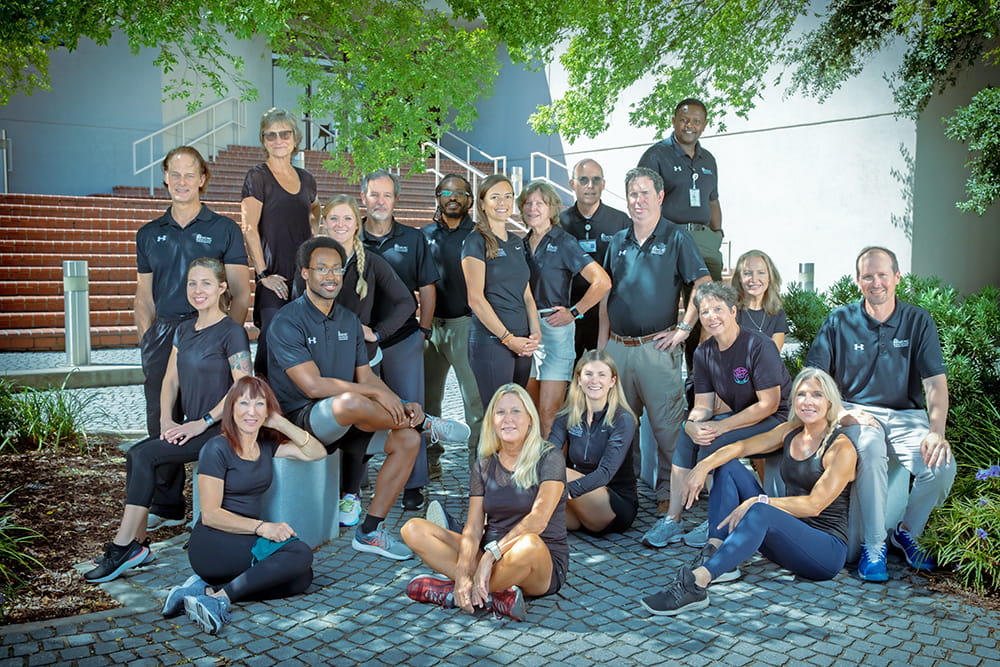 The MUSC Wellness Center team include certified trainers, wellness and membership staff and other support personnel. Photo by Mark Staff Photography
MUSC's Wellness Center has consistently been voted among the
Best Health Clubs in Charleston City Paper's annual "Best of Charleston"
contest. In addition to new equipment, programs and a dedication to maintaining
a top-ranked facility, in the Tri-county area, Jackson and his staff also take
pride in ensuring that the facility is a safe and secure environment for its
members and visitors.
Members access the facility using a secure scan card or
badge at a one point-of-entry location that's always staffed. In addition to
video security, staff members also actively round the facility throughout the
day to provide immediate assistance and guidance. In addition to the team's
fitness certifications and expertise, the 25-member team is also CPR, automated
external defibrillator certified and Title IX harassment-trained so as to manage
and respond to all types of emergencies.
The team launched a new MUSC Wellness Center Magazine this
past December. The biannual magazine is a communications tool that outlines new
programs, upcoming activities, personalized wellness stories and need-to-know
information for members and the community. According to Jackson, the next issue,
which will be distributed later this month, will feature a free one-time-use
guest pass that anyone can redeem.
Jackson is excited that the center is offering this opportunity.
"We really want to get people to come into our facility and see and experience
it for themselves. Once they come through the door, they're going to love it
here," he said.
For information on membership, personal training and fitness
programs, call 843-792-5757 or visit the MUSC Wellness Center.
link