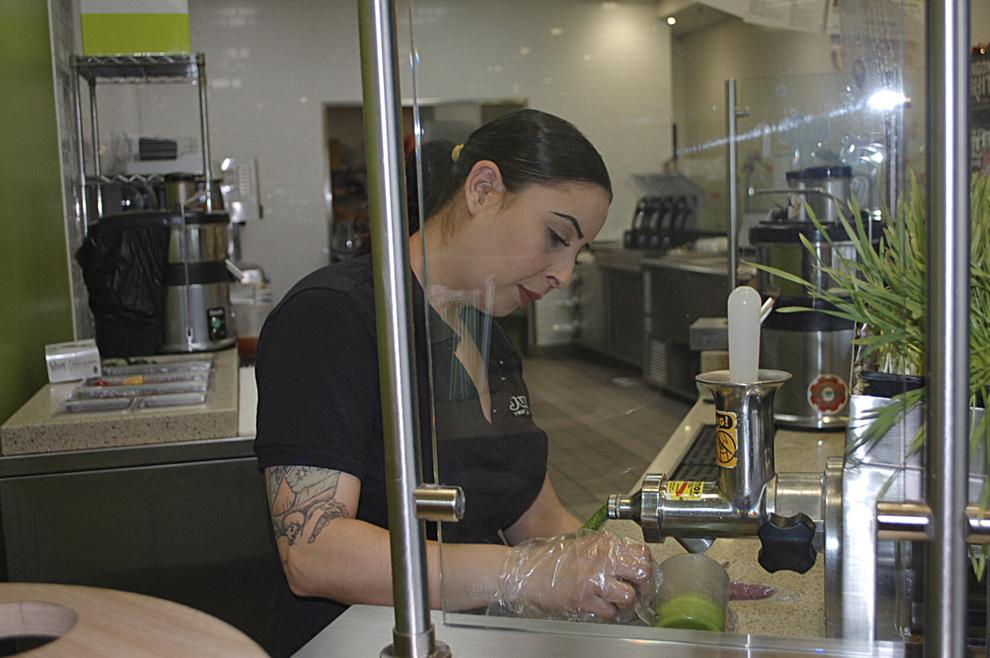 If better health is a resolution for you this year, some easy options — and nutritional ones — are close by, and some require little financial investment.
Eating healthier and exercising more are concepts that don't always sound pleasant and fun.
And, not everyone has access to a gym membership to clubs such as Xtrme, Anytime, Planet and Beyond fitness centers (all located in Beaumont).
Nor is it feasible for everyone to subscribe to diet programs.
According to goskills.com, the two most common New Year's resolutions are to exercise more and lose weight.
(On their list, quitting smoking is all the way down at number 7, behind "Save more money/spend less money.")
Livestrong.com (transformed from a site created by cyclist Lance Armstrong) offers some simple tips in its latest issue that addresses "16 Realistic Health Goals That Have Nothing to Do With Your Weight Nor Waist."
We can briefly summarize them for you: drink more water, which streamlines waste removal from the kidneys and easily replenishes the body's energy; eat more fruits and veggies (duh); prepare one's own meals at home to save time, money and portion control; increase "non-exercise" activity, such as taking stairs rather than elevators, or parking further away in a parking lot from the destination — as it all adds up; spend more time outdoors, and set aside at least 20 minutes of alone time every day; increase quality sleep; when not committed to alone time, engage in "genuine social interactions" with people you care about, and enjoy spending time around; figure out how to manage stress; better balance work and life — learn to say "No" when being offered more tasks; cut back on booze consumption; improve posture (practice in front of a mirror); take care of your skin: quit smoking and mitigate exposure to sunlight; and moisturize.
It can be more fun, and maybe more pleasant, to get out and about locally to engage these challenges.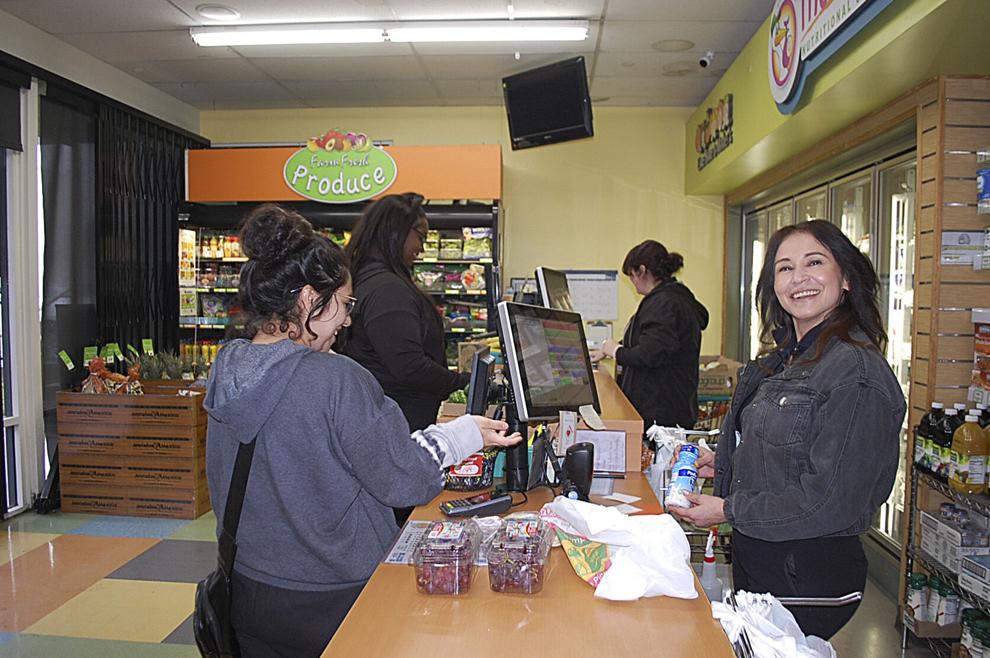 If you wish to go grocery shopping, Grocery Outlet in Beaumont and Mother's Nutrition in Banning offer great prices on organic and high-quality products, so you can consider the option of making your own healthy meals at home.
Mother's Nutrition, which is a popular destination for WIC recipients, allows people to "redeem those benefits and make their shopping easier and convenient," says Manager Lorena Tavares. And, in an era where baby formula has been in short supply, her store carries plenty of it, while accepting EBT in addition to credit and cash.
Some good deals are to be found there: 6-ounce packs of blueberries were selling for $2 there last week; avocados for $1 each, and $64-ounce Soy Silk milk for $4.69.
For those who prefer the convenience of getting their nutrients in a to-go cup, Juice It Up! is a convenient stop just across the parking lot from Anytime Fitness in Beaumont.
On a recent afternoon, after a workout, Beaumont High School senior football player and track and field athlete Ignacio Ontiveros dropped by Juice It Up! with his buddy Justin Huck, a former Beaumont resident who resides in Orange County.
Huck ordered a specialty drink called "The Zone," a banana, peanut butter, peanuts, protein powder and non-fat yogurt smoothie (vegetarian and gluten-free, no less) for 440 to 630 calories; while Ontiveros opted for the "Ever Green," one of the company's "classic" vegan and gluten-free smoothies that packs a punch with kale, spinach, pineapple, lime-pineapple sherbet, lemonade and apple juice, and has 200-540 calories, though the way Ontiveros orders it in medium size, knocks it down to 120 calories.
"It makes me feel good," Ontiveros contends.
For Huck, "It's a nutritional protein boost for after the gym, my post-workout snack."
While lots of tasty temptations at Juice It Up! are not as nutritious, those seeking detoxifiers and rejuvenators such as wheat grass and ginger shots can find some comfort there.
"A wheat grass shot is like two-and-a-half pounds of vegetables" being consumed in a 1.5-ounce or 2-ounce cup, according to Assistant Manager Bianca Osegura. "It's good for detoxifying the body, and it helps boost nutrients in those fighting" illnesses and diseases, particularly cancers.
"A lot of guys come here from the gym. Those who aren't into health come here, too, but we offer a lot of non-concentrated juices and no sugar-added, plant-based" options, Osegura said.
Closer to Anytime Fitness is a Nutrishop location, where folks can buy their own protein shake mixes and powders.
Down the road, locals can anticipate the opening of Nektar later this year, home to acai bowls and super-food smoothies.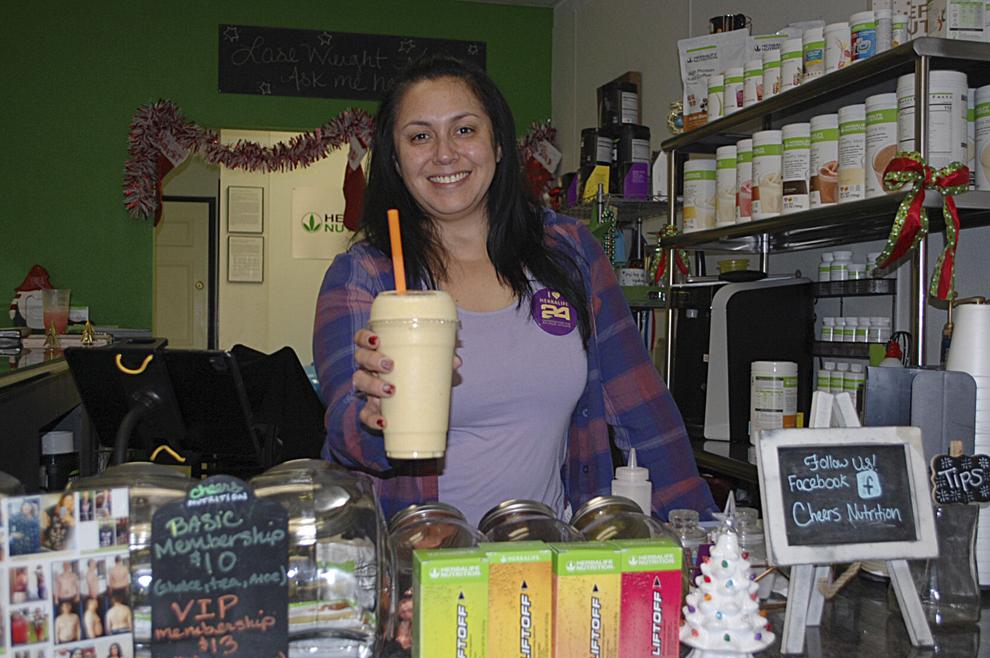 In Banning, Cheers Nutrition, an Herbalife shake bar, has a large selection of menu items that can act as "meal replacements, or be consumed to get healthy weight gains."
Owner Trinity Wallis points out that all of her shakes come in under 200 calories, regardless of whether it's a Dutch chocolate shake or a "lit herbal tea with aloe" and Lift Off Energy tablets.
On Jan. 7, her business is sponsoring a $20, four-week challenge: those who pay and enter, strive to lose the most weight. The biggest loser, will be the biggest winner, as they will claim the pot.
Her "lit" teas "are popular: they give that energy boost without the sugar crash or caffeine," and, she claims, "is a healthier option than those sugary drinks you can get at Starbucks."
Top flavors at her 3559 W. Ramsey St. store in Banning are orange cream, banana bread, and waffle cone.
Her Herbalife shop (similar to another Herbalife business at 137 N. San Gorgonio Ave. in Banning) is only open in the morning (Cheers is open Monday through Thursday, 9 a.m. to 11 a.m., and until 2 p.m. on Fridays).
For those who need an app to regulate their progress in maintaining New Year's resolutions, lifehacker.com offers insights to the advantages offered by several apps, from Cronometer (which tracks "nutrition, not just calories,") to Pedometer++/Google Fit, which tracks one's individual steps, and helps folks make, well, strides, in setting those goals.
"Cheers," to 2023!
Staff Writer David James Heiss may be reached at [email protected].
link